How effective are you as a gardener without your shovel, hoe, and soil? Though these are some must-have tools while gardening, many people tend to forget about the shoe. A garden shoe can withstand all that heavy-duty, muddy, and watery situation, whereas the regular shoes cannot.
Some amateur gardeners think that a pair of gardening boots isn't a worthy investment. They argue that their old rugged sneakers are can do a perfect job. On the other hand, professional gardeners claim that it is impossible to carry out gardening chores with the ideal garden shoe.
If you've realized the worth of gardening boots and looking for one, we can help you out! This article explores and reviews some of the best men's gardening shoes . Keep reading!
Why Should Men Use Gardening Shoes?
Here are some reasons why you should step into the garden only wearing shoes, boots, and clogs:
Garden boots make it effortless to slip on and off, unlike usual shoes.
Garden clogs keep your feet safe in the soil.
A pair of gardening ankle boots are much easier to clean.
Garden footwear is more comfortable than tennis shoes or sneakers.
Gardener clogs also help you keep the garden dirt out of the house.
How to Choose Gardening Shoes
Finding a perfect pair of gardening shoes to protect your feet is a mind-boggling task. Here are some considerations every buyer should make sure of before buying gardening footwear:
Comfort: Like any other casual shoe, your gardening shoes, boots, and clogs should also offer comfort. You must try several pairs and pick the most comfortable one. The last thing you want to get while gardening is blisters. Additionally, you can also look for options that allow replacement insoles.
Easy to clean and wear: If you don't want to spend hours taking off the dirt and grime, look for easy to clean shoes. Additionally, the pair of shoes should allow you to wear them on and off quickly. Slip shoes are the most preferable and comfortable to slip options.
Waterproof: The best gardening shoe will have a moisture control lining to make your shoes waterproof. Gardening is all about soil, mud, and water. A waterproof rain and garden clogs will keep you dry and safe. Moreover, with waterproof shoes, you'll find it comfortable to work for longer.
Safety: Garden shoes keep your feet dry and safe. Look for smooth rubber soles as they have a better grip on the soil. A garden shoe with a smooth sole can help prevent the risk of sliding.
Stylish: A pair of shoes should always be fashionable, even if they are just for gardening. Given the vast array of designs and colors available in the market, you'll indeed find shoes that complement your style.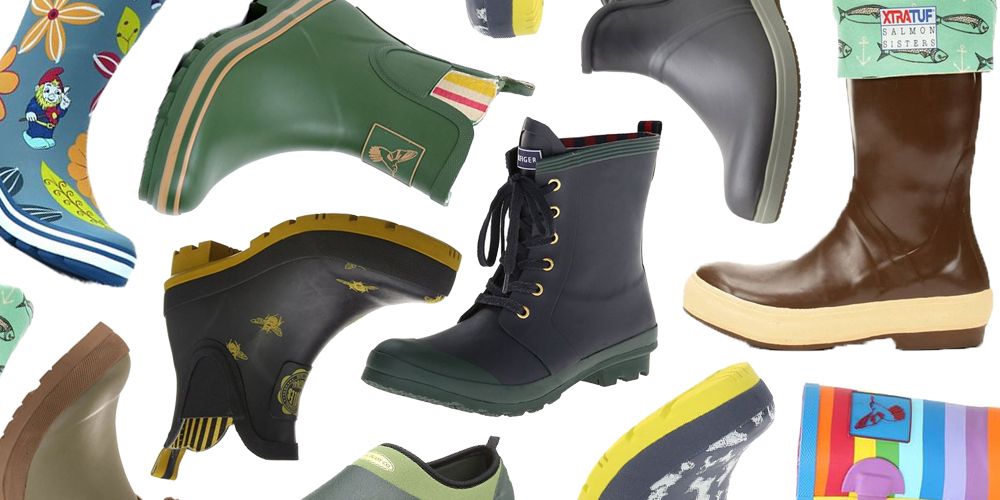 Maintaining & Cleaning Your Garden Shoes
Though gardening shoes are easy to clean, you still have to take a few steps to clean them thoroughly. Below are some tips to keep your garden clogs spick and span:
After the gardening session, wash the garden shoe with some soapy water. You can also use a scrub brush to remove all the dirt and debris from the rubber sole.
After cleaning the some with water, give them plenty of time to dry up. You can air-dry the shoes or also use a hairdryer if you are in a hurry.
If your garden boots smell strange, fill the shoe with some newspaper or unused kitty litter. These items will not only get rid of the odor but also keep the shoes dry.
After cleaning and drying the boots, you should also store them correctly. We recommend keeping the boots upright to provide plenty of air circulation. Using a shoe tree for your gardening shoes can help retain their shape.
10 Best Men's Gardening Shoes
This Tengta product is a unisex garden clogs that will accompany you in small and big gardening tasks. Besides being waterproof, these unisex garden clogs come in four distinct and unique colors. The shoes have a low cut design that is suitable for gardening.
This shoe gracefully integrates natural rubber and neoprene to make working in wet and grassy terrains easier. Most importantly, the rubber soles on this shoe are slip-resistant and durable. You can wear these shoes and work for hours in the garden without feeling any discomfort.
The best part about these clogs is that you can also use them hunting, camping, and washing car.
Pros
Available in 4 unique colors
The exterior is easy to clean.
Waterproof slip-on with air mesh lining
The rubber sole is slip-resistant
Cons
The sizing runs a bit large.
CHECK THE PRICE ON AMAZON!
SYLPHID Men's Garden Shoes is the perfect pair in terms of budget and quality. Gardening enthusiasts will find the air mesh lining on this shoe to be extremely breathable and moisture-wicking. Gardening will feel less tiring and more enjoyable with these highly comfortable and supportive garden shoes.
It has high-traction abilities to prevent any injuries and accidents by slipping. The men can use this Sylphid shoe for more than just gardening purposes. The natural rubber and neoprene integration allows better movement and protection to the user. This waterproof rain and garden shoe is a bang for the buck!
Pros
A wide array of color options
Lightweight and comfortable fit
Excellent stability from the rubber sole
It can double as rain boots.
Cons
It retains gardening odors.
CHECK THE PRICE ON AMAZON!
If you a fan of simplicity, perhaps these RomenSi Unisex Waterproof Garden Shoes will catch your eye. The neoprene fabric allows a soft lining layer that is both comfortable and breathable. Though you won't have difficulties spotting the right size for yourself, you might be disappointed with the color options.
However, this easy to slip pair does not compromise in comfort. These anti-skid rain boots have a high-quality rubber and synthetic textile construction. Users claim that these garden shoes are very flexible and have a great feel.
The shoe leaves enough space for you to wear socks on a cold day. All in all, the RomenSi Unisex Graden Shoe is a considerable candidate.
Pros
Allows multipurpose use
Comfortable and breathable lining
it takes lesser time to dry than other garden shoes
It can double as a rain boot.
Cons
Not 100% waterproof
No variety in colors
CHECK THE PRICE ON AMAZON!
The Muckboots daily garden shoe is one of the best options for a professional or a casual gardening DIY enthusiast. This original muckboots everyday garden clog has excellent heat retention, shock absorption, and waterproof abilities. This footwear comfortably adjusts to the shape of your foot to avoid blisters and chafing.
We love the air mesh lining that ensures the right air circulation within the footwear. If you are messy in the garden, you'll be happy to know that these shoes take only a few minutes to clean. The high-grade rubber exterior is tough and sturdy.
The good news is that this footwear also allows yard work, fishing, camping.
Pros
Excellent waterproofing and shock absorption
Wicks away perspiration and moisture
Impressive rubber boots with excellent grip
Muckster ii comes in a variety of colors.
Cons
Expensive muck boot shoes
CHECK THE PRICE ON AMAZON!
The Sloggers Men's Waterproof Garden Shoe is our top pick. Your search for the best gardening shoes for men will come to an end with this Sloggers offering. If you disagree with the design of the Sloggers women's waterproof rain shoes, this one will suit your likings.
However, like the Sloggers women's waterproof rain shoes, this one too has an all-day comfort insole. If you are running on a budget and not willing to compromise on quality, this is it. The pairs have good grippy soles that will keep you from slipping.
Despite being a budgeted product, this pair can give a tough competition to premium ones like Muck Boot.
Pros
Graden shoes with excellent traction
Waterproof rubber construction
Carries vents for air circulation
Durable and long-lasting pair
Cons
Not available in half sizes
CHECK THE PRICE ON AMAZON!
This Bogs footwear is a no-frill gardening shoes boots that can become your ultimate garden time companion. The vast range of sizing for this footwear makes it easier to buy the apt sizing. Though the price tag is not very cost-effective, the features are well worth it.
The manufacturer claims that this product is 100% waterproof, which is ideal for garden work. The low profile design can help to keep your feet dry by ensuring air circulation. For additional comfort, this footwear includes 2mm of Neo-Tech lining.
Customers claim that Bogs offer prompt and quick customer resolution at all times.
Pros
Bogs deliver an excellent and prompt service to customers.
The sizing chart for these gardening boots is accurate.
Offers value for money
Easy to slip garden shoe
Cons
A few users reported tightness.
CHECK THE PRICE ON AMAZON!
You can ditch your old classic clog for this superb Dunlop Chesapeake boot. If you do not feel protected enough wearing garden clogs, this high-raised boot will satisfy you. The users speak very highly of the structure, comfort, and quality of this pair. The hearty material of this boot offers 100% waterproofing.
These USA-made boots come with a certified steel toe. Its modern design prioritizes safety over any other feature. The energy absorbent outsole eliminates harsh impact to safeguard your feet. You can easily insert your feet and adjust them with the help of loops on the top.
Pros
25% lighter weight than other PVC work boots
Highly waterproof rubber garden boots
Features a 36-degree pull tab
Highly affordable yet enduring
Cons
Needs improvement in traction
CHECK THE PRICE ON AMAZON!
The list of garden shoes for men will be incomplete without including several Muck Boot footwear. Like the muckboots daily garden shoe, this one is also tailored to offers the best protection and comfort to the user. If your budget allows, then you must go ahead with these neoprene-integrated boots.
It carries a goofy and rugged overall appeal. Besides, cleaning this boot takes only some water a dish of soap. Users claim that this Muckboot footwear remains 100% dry even after prolonged submersion in water. These ankle boots can bear all the rock piles, mud, and rough use like a pro.
Pros
Works perfectly in wet conditions
Adequate traction for wet surfaces
Does not compromise on quality and comfort
It slips on and off easily.
Cons
Not a very stylish option
CHECK THE PRICE ON AMAZON!
This original Muckboots daily garden shoe has a comfort insole to offer you the best conditions for prolonged gardening activities. Your feet will not feel tired even after a long day in the garden with these boots. However, these wonderful boots cost way more than the others in the market.
The comfort rated temperature for these pairs are 40-degree F to 95-degree F. The Spandura treatment in these boots helps them achieve maximum abrasion. Surprisingly, these lavish garden shoes have a steel shank support, a rarity in men's gardening shoes.
It is no secret that a Muck Boot pair can be a valuable investment for buyers.
Pros
Allows versatile applications
It has a Triple Toe and Quadruple Rubber
Vibram Arctic Grip
You can buy this in a range of sizes
XpressCool technology to wick off heat and moisture
Cons
CHECK THE PRICE ON AMAZON!
Honeywell Servus is one of your most reliable options for purchasing the best gardening shoes for men. Note that this men's garden boot has a PVC construction and not natural rubber. The PVC material also makes the price tag much more budget-friendly.
The Servus boot has a steel toe and comfortable insole. Unlike an ankle boot, this footwear offers protection up to the calves. Also, these boots have a unique molded heel. This feature locks your feet in the correct position.
This men's garden boot is also available in a vibrant yellow color for stylish customers!
Pros
Available in multiple sizes
Apt for heavy-duty and rugged use
Cushioned insoles to provide heel and arch support.
Slip- and chemical-resistant
Cons
Affordable PVC boot
Color options are limited.
CHECK THE PRICE ON AMAZON!
Frequently Asked Questions
1. What are the best men's gardening shoes ?
The best gardening shoe is a combination of durability, price, function, style, and ease. Also, the boots should keep your feet dry and warm while working. Footwear that holds all these features is the best consideration for your gardening time. From our list, the Sloggers Gardening Shoe and Muck Boot gardening shoes are the best.
2. Are Crocs Good gardening shoes?
Yes, Crocs are feasible for gardening. You can use a pair of Crocs garden clogs because they are waterproof and have a good grip. Besides, the opening on the Crocs garden clogs allows optimum air circulation for the users. Also, Crocs can be a top pick if you like a dash of colors and style in your classic clog.
3. What are gardening shoes?
A gardening shoe is unique footwear that has a design to handle mud and rugged gardening conditions. These shoes keep your feet warm and protect your feet from rash or bug bites. The gardening clogs have a rubber construction that can also double as a water shoe or rain boot.
4. Are Hunter boots good for gardening?
If you are willing to spend top dollar, there are no better gardening shoes than the Hunter boots. Although costly, their uniquely designed rubber soles are incredibly safe for gardening. Many buyers claim that the Hunter boots offer good arch support and traction.
The Bottom Line
When it comes to buying a pair of gardening shoes, you try to balance price, function, quality, and style. The master of all these characteristics is the Sloggers gardening shoe and the Muck Boots. Both these gardening shoes offer impeccable value to the buyer.
Now that you have got your hands on all the knowledge to buy gardening shoes, it's time to hit the stores. Make sure to consider our buying guide when you are perplexed between choices. Hopefully, this list helped you to find the perfect shoes, boots, and clogs for a happy garden time.
So, slip on in the best garden shoes and get to some digging and planting!
James Fields is the founder of Gardener to Farmer. His passion for gardening goes back to his childhood days when he would visit his grandfather during the holidays and help him with the plants in the backyard. This has now translated to creating a dependable resource for gardening.